The Baltimore SuperPops Goes Sci-Fi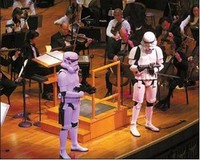 Symphony orchestras have been performing live science-fiction film soundtracks to shore up dwindling admission numbers ever since Star Wars maestro John Williams—the man of a thousand similar Spielbergian scores—raised a baton for the Boston Pops. But even the pops has never gone as all-out sci-fi as the Baltimore Symphony Orchestra, which is putting on an incredibly geeky show next weekend for genre fans.
When conductor Jack Everly takes the stage to lead the Baltimore Symphony Orchestra SuperPops, he will wield not a baton, but a light saber.
Accompanied by an all-vocal ensemble dressed entirely in Starfleet Uniforms, the SuperPops will perform iconic works from Star Wars , Star Trek , Superman , and E.T. , surrounded by stomping Stormtroopers, flashing laser beams, and ionic transporter shafts. And if that's not enough, George Takei himself will be narrating the performances in his iconic basso voce. If you're in Baltimore on January 17, 18, 19 or 20, this looks like a fun show, even if the musicians would rather be playing Rachmaninoff.
BSO Boldly Goes Where No Orchestra Has Gone Before [Frederick News Post] (via SF Signal)
Read More