Sundance: U2 Members Stand in Line for Their 3D Movie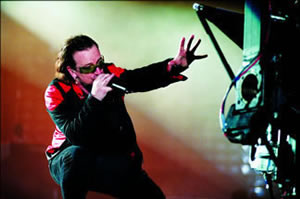 Let it be said that following the concert stage and international diplomacy, Bono can now add Sundance to his list of accomplishments. One of the most highly-anticipated documentaries of the festival, U2 3D premiered last night, and for once (and somewhat surreally) Bono, guitarist The Edge, bassist Adam Clayton, and drummer Larry Mullen Jr. were waiting in line with the rest of the guests to see U2 perform.
"I was really hoping we weren't crap after all these years," The Edge told the Associated Press right before the screening, referring to the taping of the show during the band's 2005-2006 Vertigo tour. "Luckily we weren't."
At a press conference following the screening, The Edge remarked that the 3-D technology had really allowed the "songs to shine through," but admitted the band members seemed far apart on such a large screen.
Bono joked back, "Are you saying you felt lonely up there?"
"No, I felt lonely for Larry," he replied.
Bono was in good spirits following the screening: "As large as The Edge looks in U2 3D, it's not large enough," he said, according to the Salt Lake Tribune. He then beamed, "There's a lot of love and Irish Whiskey in the air. If this festival were in Dublin, it would be raindance."
At one point, a heckler compared the band's message of love and world peace to the Beatles' Yellow Submarine cartoon. "F— off," Bono retorted, according to the Toronto Star. "I think taking the Declaration of Human Rights on the road is hardly a flippant thing to do."
Read More