Sundance: Two Newcomers in A Raisin in the Sun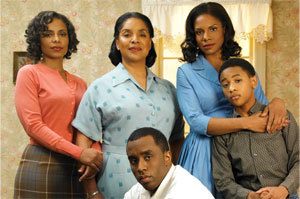 One of the principle motivations behind Sundance is to give newcomers the chance to prove their worth to the establishment. In many cases, this can mean a completely unknown actor or director taking center stage for the first time. Other times, artists seize the chance to reinvent themselves.
Take the case of A Raisin in the Sun, an ABC film adaptation of the Broadway play about an African-American family struggling in 1950s Chicago until a hefty insurance check changes everything. On the one hand you've got a newbie director helming the movie (which he directed on Broadway); on the other, you've got a well-established rapper stretching himself as an actor.
In translating this work from stage to screen (with the same actors, mind you), director Kenny Leon told indiWIRE,
"it was very important for me to lose all the feeling that it was a
taped version of the stage adaptation…It was especially significant
to have an opening and closing of the story that felt like a film, and
not a play being filmed." Here's hoping he succeeds since a disastrous first film for Leon may rule out any possibility of a second.
Perhaps the bigger question mark
with this this film is whether music entrepreneur Sean "P Diddy" Combs can parlay his portrayal of the movie's leading man into a
successful film career.
His stage performance garnered lukewarm reviews by and large: One critic opined
that his performance "never gains authority or presence," and that his was a
"lusterless, dispiriting star turn." Yet his Tony-winning co-star
Phylicia Rashad had a much different perspective of the
rapper-turned-actor.
In an interview with NPR,
Rashad said that "Sean Combs is without question one of the most
amazing people I've ever met. He's so committed. I've never seen
anything like it. No bling-bling here. He strives for perfection in
everything he does."
Is this the beginning or the end of Leon and Combs? Only the audiences can decide.
Read More