Sundance: Tucci and Clarkson's Blind Date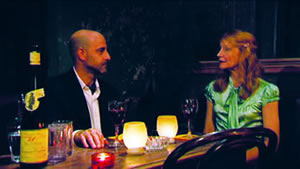 It began at Sundance last year, when Steve Buscemi premiered his remake of the late Dutch director Theo van Gogh's 2003 film Interview–an imminently watchable and extremely well-received 90-minute drama featuring only two people. This year, Buscemi's partner in crime, Stanley Tucci, premieres his own remake, Blind Date–the second part of the duo's planned van Gogh trilogy.
Centered on a married couple forced to cope with the death of their daughter, the movie, like Interview, is an intimate affair, and was in fact filmed in one room over the course of seven days. Tucci, who directed, co-wrote and starred in the picture, told Entertainment Weekly he "liked the darkness" of the story. "I always wanted to make a movie with this darkness," he said. "I'm fascinated by the complexity of the relationship, the theatricality of the relationship. The idea of this loss, the most tragic loss, is a fear I've had for many many years, as a parent. I wanted to explore that."
Patricia Clarkson, who plays Tucci's wife, experienced a particular challenge in shooting the film: kissing two men. Originally Tucci's role had been given to Monk's Tony Shaloub, but budgetary constraints forced the director to step in as the lead at the last minute. "I had to kiss both of them, and Tony was a better kisser," the actress joked. "[But when] we first rehearsed, it was a concern of mine whether [Stanley and I] could do this pas de deux, whether we could dance together…[But] it ended up being very effortless. I realized I had such an incredible emotional attachment to him that I wasn't aware of, like an organic relationship."
Tucci's challenges, on the other hand, came from the pressures of adapting a famed director's dream project: "If it were my own film, I wouldn't even bother trying to make it good!" he joked with New York Magazine. "You want to be respectful and pay homage," he went on to say, "but ultimately you just make the best film you can."
As oppsed to Buscemi's work last year, early reviews for Tucci's film have been largely unfavorable. And considering it's been eight years since his last directorial work, Tucci may find his first Blind Date will in fact become his last.
Read More