Sundance: The Jury Speaks (Before Judgment)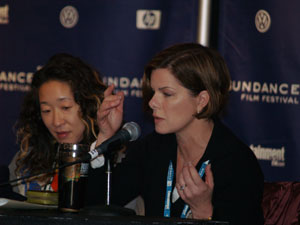 Traditionally, Sundance jurors are extremely close-mouthed regarding festival films in competition. But that didn't prevent Sundance organizers from holding the first-ever juror press conference last night, where actress Marcia Gay Harden (recently seen in Into the Wild) and Sandra Oh (from Grey's Anatomy) commented on their expectations and their role as arbiters of taste.
"I know we're going to see things that are raw and great," said Harden, according to CinemaBlend. "I know that [I'm] going to see things that are different and may not appeal to my taste, but I get to go, 'Huh, how do all the elements fit together? How did the craft–the cinematography, the contributions of the actors–how did it fit together in order to make what would be a wonderful independent film."
Quentin Tarantino, who was to be the star of the show, was noticeably absent due to the fact he'd missed his plane into Park City. Noting that he flew commercial rather than private, Harden took the opportunity to promote her environmental agenda: "It's good to be supporting alternative sources of fuel and ideas for change," she quipped according to the New York Post .
In one of the more frank moments of the conference, Sandra Oh responded to questions about the much-criticized Hollywood mainstreaming of what was once a beatnik festival. When asked whether there might be a resulting bias from the jurors against mainstream movies in the festival, Oh responded, "We want to promote the best film possible. I think that's a given here, but I mean come on! Do we really need to support the next MI-6? No." We assume she was referring to Tom Cruise's Mission: Impossible franchise, and not the British Secret Intelligence Service. But that's just a guess.
Read More