Sundance: Michel Gondry Gets Real About Be Kind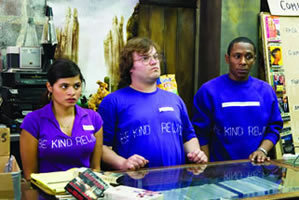 It's hard to imagine that the genius behind such mind-bending works as a podcast interview with digitalcontentproducer.com , that's exactly what he says.
For those who don't know, Gondry's new film is about a man (Jack Black) who, through a series of unfortunate events, magnetizes his brain then accidentally erases all the tapes in the video rental store of his friend (Mos Def). The two then attempt to fix the problem by making their own, low-budget productions of classics like Ghostbusters and Boyz 'n the Hood.
"The story line, the plot, is a little absurd," the director explained, "but I wanted to incur it in a very grounded context. I wanted those people to exist in the real world." As far as the films within the film, Gondry said, "I wanted the audience to feel it was directed by [Black and Mos Def]. So it was a combination of naivete and simplicity."
So how did the master of subverting reality become so grounded? In a separate interview with IndieWire, Gondry explains he came up with the idea for the movie after noticing abandoned movie theaters in Paris. "I had this Utopian philosophy that I could gather people who live next to this theater and give them a camera," he said, "And basically the principle will be that they create their own film all by themselves and they watch it all together one week later…It would be very poor technically, but it would be totally compensated by the fact that you look at yourself and your friends."
Read More