Sundance: Method Man and Jonathan Levine Dish on The Wackness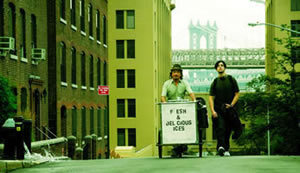 As anticipation builds for Sundance, more and more buzz is swirling around Jonathan Levine's idiosyncratic urban tale The Wackness. This is due in no small part to the film's cast, which includes Ben Kingsley, Famke Janssen, Wu-Tang rapper Method Man, and—weirdly enough—Mary Kate Olsen.
The movie centers on a teenage outcast (Josh Peck) in 1994 who, when not busy chasing women and smoking marijuana, spends his days coping with family dysfunction and his own depression. Ben Kingsley plays Peck's therapist, an equally dissatisfied New Yorker willing to swap therapy sessions for weed.
Method Man, whose role on HBO's The Wire has helped earn him "household name" status, plays the film's middle man, a Rastafarian drug dealer. "It's cool as s—," he says of the movie, explaining the title: "[Josh Peck] feels his life is wack…and comes for advice from his supplier, who is me."
Director Jonathan Levine views the title as an homage to the film's uncredited star: New York City. "When Ben Kingsley read the script, one of his conditions was that we had to shoot this in New York—even the interiors," the director told the New York Sun. "New York isn't just a character in the film, it's central to the pacing and feel. This is a very personal film for me, and I think the city's had so much volatility in the last 10 or 15 years, that to look back before 9/11 and see how innocent it was in a way, despite all its problems, it's an interesting journey back in time."
Read More