Sundance: Martin McDonagh Reconceives the Hit Man for Colin Farrell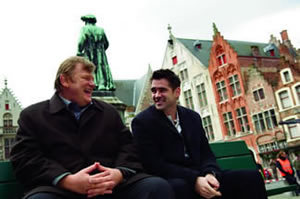 Well, folks, the wait is almost over. Tomorrow Sundance will officially kick off with the premiere of the great Irish playwright Martin McDonagh's debut feature film In Bruges. Set in Belgium's most well-preserved medieval city, the story follows two hit men (played by Colin Farrell and Brendan Gleeson) who, after a job goes sour, are forced to cool their heels as tourists in the city for a few weeks.
McDonagh, in an interview with the International Herald Tribune, says the inspiration for his film came from two places. The first was a visit he took to Bruges, in which he observed, "This is boring, this is beautiful; this is wonderful, there are no girls." Ultimately he decided he couldn't imagine anyone wanting to spend more than two minutes there.
Which brings us to the director's second inspiration—his desire to subvert the common conception of a hit man: "I'd always been irritated by macho films with guns and bullets flying everywhere," he says. "I'd wondered where the stray bullets go. What happens when a bullet hits the wrong target…It's kind of a black comedy about despair."
Sundance director Geoffrey Gilmore told indieWIRE that, "in many ways In Bruges is a quintessential Sundance film. It's brutal, philosophical, funny, and totally original." Don't believe him? Check out Entertainment Weekly's 58-second sneak peek and decide for yourself.
Read More