Sundance: Did Morgan Spurlock Find Osama?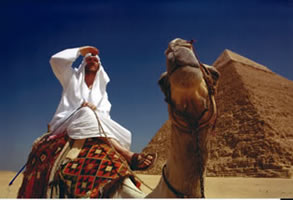 One of the most anticipated documentaries of the festival, Morgan Spurlock's Where in the World is Osama bin Laden premiered in Park City on Monday, finally putting to rest the question on everyone's mind: Did Spurlock manage what the American military had not? Had he found bin Laden? The short answer is no. He did not locate the Al Qaeda leader, nor one of his former hideouts, nor any of his family members.
He did, however travel the Middle East interviewing locals, he embedded himself with an American military unit in Afghanistan and he shadowed a Tel Aviv bomb squad. In that time he discovered that bin Laden is bigger than any one man. "Osama bin Laden is the figurehead of the whole thing," the documentarian told the Salt Lake Tribune yesterday. "He is a global franchise…The web that has been put out by Al Qaeda is now worldwide."
Though Spurlock insists finding bin Laden was always the original goal of the project, when the filmmaker learned his then-girlfriend-now-wife Alex was pregnant, his motivations changed. "It really also became, 'What kind of world am I bringing my child into?'," he said.
Spurlock was able to take the temperature of people's ill sentiments towards bin Laden and also towards America. "It was hard for me to hear people telling me their opinions [about America]," he said. "And I think it's going to be hard for other people to listen to. But we have to start listening…We have to really start thinking beyond our borders."
To say that Alex had concerns over her unborn child's father entering an embattled region would be an understatement. Her one rule, she told the audience before the screening, was that Spurlock stay out of Iraq: "I said you're not going to Iraq. If you go there, I'm leaving," the Winnipeg Sun reported. He never went to Iraq, but of his entire journey Spurlock responded, "When I went, she was upset. When I came back, she was ecstatic. And now I never have to go again."
Read More