Sundance: Bottle Shock Weighs Wine's History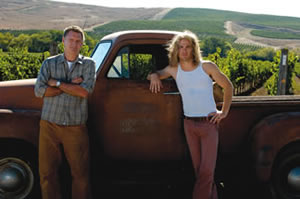 The 2004 film Sideways , an unabashed success that wowed audiences at the Toronto, Torino, and New York film festivals before netting five Academy Award nominations (and winning one), depicts two middle-aged men on a wine tour of California's Napa Valley. This film might never have been possible were it not for the efforts of two men–Bo Barrett and Steven Spurrier–in the 1970s, who staged a blind taste-test during which French experts lauded California bottles over some of France's finest.
Their true story is told in Bottle Shock, which premiered in Park City this year and stars Chris Pine (soon-to-be Captain Kirk in Star Trek) and Alan Rickman as Barrett and Spurrier, respectively. The real Barrett was at the premiere, and commented on the impact movies like Sideways and now Bottle Shock have on the wine industry. "What's important is, as prohibition goes away, the generations of our kids that are drinking wine–that this story gets told again," the winemaker said, according to CinemaBlend.
Chris Pine was able to spend some time with Barrett while he was researching for the role. "Much like what I'm doing with Kirk, where you're carrying on a tradition of someone who's already portrayed the character, you're trying to get the essence of the person, but infuse it with what you have," he told Entertainment Weekly. "Bo is a very unique personality. So it was very helpful to sit down with him to learn about the nuances of wine-making and his character."
Rickman, whose character is the owner of the Academie du Vin in Paris, needed far less research to step into Spurrier's shoes. "I love wine. I think it's kind of a miracle," the actor said in an interview with Entertainment Weekly. "The way it grows, the fact that the vines will play along with somebody that bothers to understand them. I spend quite a bit of time in Italy. A friend of mine has a vineyard there. Good wine, good food, people talking in a beautiful surrounding–you don't really need much else."
Read More