Stephen King + Chuck Palahniuk = Scott Sigler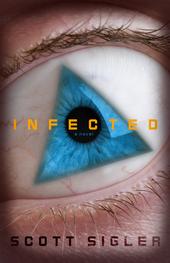 What if serial killing started with a virus, a bug that bit you and made you rip flesh at random? That's part of the premise of Infected, Scott Sigler's upcoming horror meets science fiction tome to be released by Random House/Crown on April 1. Rogue Pictures has already optioned the novel — along with its sequel. Back in May, The Hollywood Reporter said, "The book follows a CIA black ops specialist and a Center for
Disease Control scientist who team to contain a rapidly spreading
parasite whose bite turns ordinary people into crazed serial
killers. The trail of corpses leads to an infected man who is
fighting a bloody battle for control of his own mind and
body." They then proceeded to call the book "Infested." Ah, journalism.
Sigler has been talking up the book on his Web site, which is also notable for its release of Nocturnal, the free episodic horror audio book, read by the author himself. You can become one of Sigler's fans, whom he rightly calls Junkies, but you have to be ready for some seriously violent horror.
Read More