Steampunk Star Wars LEGO: The Entries So Far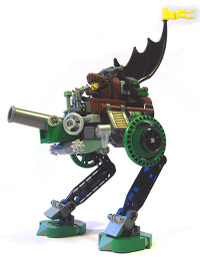 Last week, Dan Solo and dWhisper of the Star Wars themed LEGO forum FTFB announced a contest mashing up three of my geekier interests: steampunk, Star Wars, and LEGO.
When we initially posted about the contest, there weren't any entries in yet, but the community has been toiling away, knocking plastic bricks together and painting monocles and handlebar moustaches on the yellow faces of their LEGO men.
Now some of the entries are starting to surface, and they are fantastic. None of them quite feel steampunk, which is all about mottled rust, creaking leather, and burnished copper, not the dimpled plastic face of a LEGO block. But still, it's a noble effort, and I always get misty-eyed when I think of a Star Wars universe populated by Star Destroyer Dirigibles.
Steam-Wars Content Continues [Geek Dad]
Read More