"Stargate Worlds" Wants You As a NPC!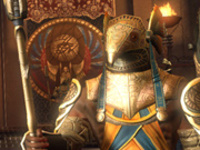 The recursion of the massively multiplayer online game genre does my head in: Sacrifice a large chunk of your life by running a treadmill of repetitive tasks in a virtual one! That said, real life doesn't offer any of us the opportunity to walk through Stargates , fight aliens or make out with curiously anthropomorphic space vixens, so it is, at least, as understandable as wildly flailing around your bedroom with a plastic light saber while making whooshing noises with your mouth and mock tongue-kissing an invisible Princess Leia.
The point is, while I'm not quite into MMOs, I grok you guys. And I'm sure you'll dig one more layer of recursion layered upon your existing gaming experience, especially if you're a Stargate fan: Starting Friday, January 11, viewers of Stargate: Atlantis will receive a "gate code" that, when registered at the official site, will enter the user into a contest that will allow their likeness to be used in the upcoming Stargate Worlds.
I love it: Escape real life by entering a virtual world to spend your time talking and fighting with your doppelganger. Still, as neat as that would be, I can only hope that someone with some truly grisly look wins this contest.
New Stargate Worlds sweepstakes announced [Gateworld] (via SF Signal)
Read More