Star Wars Remote for Jedi Couch Potatoes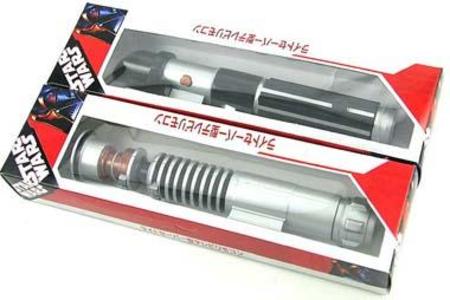 As a morbidly obese science-fiction geek, I know a thing or two about what to do when the remote falls from my squishy, boneless hand. While a thinner man might simply reach down for it, leaning forward just causes me to smack my face into my massive stomach—something like head-butting a mattress made of gelatin. Luckily, I'm as ingenious as I am disgusting: I have long since mastered using a stock plastic light saber to poke the buttons on my television. That's channel surfing with minimum caloric expenditure.
I guess I'm not the only immobile Jedi who has mastered this approach: The makers of this Star Wars remote clearly have seen a niche to fill for my corpulent demographic. Although only offering channel selection, volume, and on and off buttons, this remote will allow me to act out one of my favorite "What If?" Star Wars fantasies in first person: What if Jabba the Hutt was both a Jedi and had basic cable?
Star Wars Remote Control [NCSX]
Read More