Star Wars Infiltrates Soulcalibur IV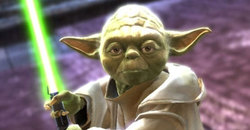 Want to go mano a mano with Yoda for some fisticuffs? Perhaps the strangest happening in video games of this young new year is the announcement of the future appearance of Star Wars characters in Soulcalibur IV. For those who don't know, Namco Bandai's Soulcalibur series combines myth with monstrous and dainty fighters with hundreds of moves each. Placing Darth Vader in the PlayStation 3 version and Yoda in the Xbox 360 version will surely expand the series' reach.
But will hardcore fans of the franchise feel its ever-evolving storyline is being diluted by the Lucas characters, who've obviously never set foot in the SC universe? Judging from the intense way Yoda and Vader look and fight in this brief trailer (via Kotaku), the foisting of Star Wars upon Soulcalibur is weird, but in a very cool way.
Read More