Star Trek Gets Two More Seasons on HD-DVD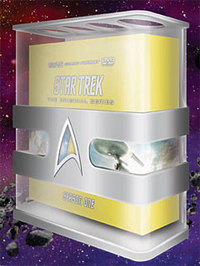 I don't know how many times I've purchased the original Star Trek episodes over the years on home video. Well, actually I do: twice. But given the expense involved, even that number seems like once too many. I had my reasons, of course—DVD is so much nicer than VHS—but when the HD-DVD versions of Star Trek season one came out, I went the path of Jean-Luc Picard. The line must be drawn here… here and no further!
I'm starting to feel pretty prophetic for that decision. On one hand, the first season of HD-DVD Star Trek sold so well that CBS is now planning on following suit with the next two seasons.
That's great and all, but anyone tempted to buy all three seasons (and a HD-DVD player to play them on) should probably think again: Warner Brothers—the largest catalogue holder of films—has just dropped support for HD-DVD in favor of its competitor, Blu-Ray. This may well be a death blow for HD-DVD, which means that if you buy these DVD sets now, you may very well find yourself purchasing Blu-Ray versions again in the next few years. And as much as we all love Star Trek, there's no way the show's good enough to warrant buying four times.
CBS DVD to increase its release slate [Video Business]
Read More