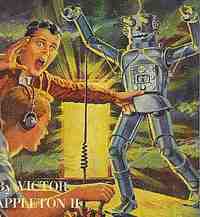 • Some practical, programming difficulties occur when implementing Asimov's Three Laws of Robotics into AIs: Namely, how do you define "humanity" in such a way that robots can understand?
• The Star Trek XI trailer will appear before Cloverfield…as if you wouldn't have gone to see it anyway.
• Gerard Butler as the titular character in Xavier Gens' Conan? Say it ain't so!
• Brandon Routh will not be coming back for a Superman Returns sequel. Gosh, he didn't do that bad.
• Steampunk, Star Wars, and building blocks are analogous to chocolate, peanutbutter, and bacon in our books so check out Don and dW's Steam-Wars LEGO contest.
Read More