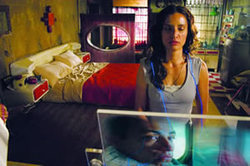 The Sundance Festival is usually devoted to movies focused on complex human relationships, cultural tensions, or Hollywood stars out to strengthen their indie cred. Since it's rare for scifi to hit Park City, Utah, it's important to take note when it does. Pending this year…
Pretty Bird: Director-writer Paul Schneider's comedy concerns a trio of entrepreneurs developing a rocket belt. Personality clashes ensue…as do kidnapping and murder. Billy Crudup and Paul Giamatti co-star. Plus, it's a world premiere.
Sleep Dealer: Director Alex Rivera co-wrote this one (film still, above left) with screenwriter David Riker. Set in a near-future dominated by the military, a global digital network has the ability to connect minds somewhat literally. Three rebels risk life and limb to explode beyond technology's limitations. This one's also a world premiere.
Read More