Sci-Fi Scanner for 01/09/2008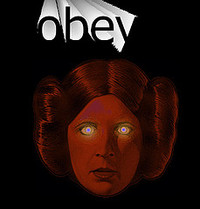 • Faster than a speeding bullet, he's back: Brandon Routh hasn't been fired from the role of the Man of Steel after all.
• OBEY. Everyone loves HypnoLeia!
• Does a 40 year career of pronouncing your v's as w's deserve recognition? If you think so, help support poor old Walter Koenig get on the Hollywood Walk of Fame.
• SF Signal looks at the erotic sci-fi dances of the one, the only, the stupendously buxom Raquel Welch.
• The director of Iron Man wants to do an Avengers. Current ETA seems sometime in the next decade.
• The Great Zombies of Science Fiction courtesy of io9.
• And in other superhero team-up news, the Justice League of America films has been delayed. No surprises there, considering most of the roles are still uncast and the WGA Strike doesn't look set to end anytime soon.
• The Guardian asks: "Why do critics still sneer at sci-fi?" My answer: Because genre fiction tends to be aimed at the lowest common denominator of die-hard fans, and the signal-to-noise ratio is lower.
• Alan Moore eulogizes visionary conspiracy nut Robert Anton Wilson the only way he knows how: by rambling on about magick-with-a-k.
Read More