Salma Hayek, Bearded Lady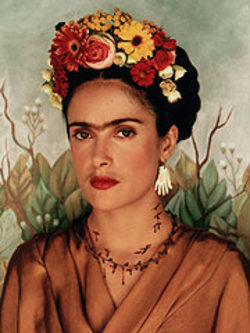 Salma Hayek owes a lot to horror films as 1996's From Dusk Till Dawn was the movie that allowed many Americans to first feast their eyes on her (for what has ended up being a very interesting and brave career). Her glamour has made her an easy star to track, but now and then she likes to make sure we appreciate her real talents by hiding behind something like Frida 's eyebrows. Or Matthew Perry.
But now Salma's going downright sideshow on us. The actress has taken her flirtation with facial fuzz to a whole new level by accepting the role of Madame Truska, the bearded lady in Universal's upcoming Cirque du Freak (also starring John C. Reilly).
This vampire film does not apparently plan to reverse Hollywood's trend of casting dark aspersions on the lives of carnies and circus folk, which almost certainly began with the 1931 horror movie Freaks . Unlike that film which had a genuine bearded lady (Olga Roderick, who later denounced the film), Salma seems highly unlikely to grow her own facial hair.
Since production on Cirque du Freak won't begin for another month, we unfortunately don't have any images of Selma sporting her new look. If you're desperate for a preview though, you may want to consider making your own: Here's a good shot of her Fridabrow that you can photoshop onto her upper lip. (Don't forget to post a link to your masterpiece in the comments!) As for the movie, when the time comes, I'm sure we won't be able to look away.
Read More