RIP Vampira, Plan 9's Mistress of the Dark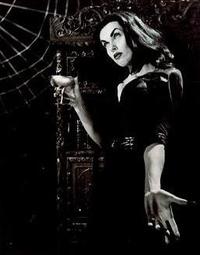 With her pale, luminous skin, diaphanous dress and a waist so constricted that she looked like she might cough up intestines if she sneezed, Maila Nurmi—more popularly known as Vampira—was one of the most iconic personalities of terrible sci-fi thanks to her appearance in Ed Wood's Plan 9 From Outer Space. We're sad to report that she has awkward lurched out of her last cardboard coffin: On Friday night, she died peacefully in her sleep from a cardiac arrest at the age of 86.
Although most popularly known for her appearance in Plan 9, Nurmi was not always quite so infamous. In her late teenage years, she was a model for Alberto Vargad and Man Ray, posing as a pin-up model in the early '50s to make ends meet before she eventually stumbled upon real success by creating her Vampira character.
The spiritual mother of Elvira, Vampira hosted horror movies on KABC-TV in Los Angeles with a combination of morbid sex appeal and tongue-in-cheek punnery… a character which would eventually win her an Emmy Nomination. She was also intimately familiar with numerous "more respectable" Hollywood stars, having over the years dated Orson Wells, Elvis Presley, and even James Dean, who famously commented on their relationship: "I have a fairly adequate knowledge of satanic forces, and I was interested to find out if this girl was obsessed with such a force."
Unfortunately, Vampira's appearance in Plan 9 From Outer Space didn't give her the break in film she'd been hoping for, and she has largely lived in obscurity for the last 50 years, selling antiques and handmade jewelery from her home on Melrose Avenue. But I for one will miss her: The most sensuously ghoulish face and figure in all B-movie sci-fi deserves a tearful send-off.
RIP Vampira [Shock Till You Drop]
Read More