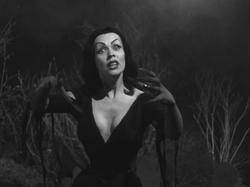 Maila Nurmi, one of the last remaining stars of Ed Wood's Plan 9 From Outer Space and the woman who forever changed horror TV and goth culture as Vampira, has passed away at the age of 86.
A former pin-up model and actress (she was good friends with James Dean), she attended a 1953 Hollywood costume party dressed as Morticia Adams and so entranced a local producer that he created The Vampira Show for her. Thus a legend was born.
Although it never aired outside of L.A., the Vampira character (TV's first horror host) brought Nurmi national attention. Her reprisal of the role in Plan 9 From Outer Space only cemented her iconic status for horror movie fans everywhere. Nurmi may no longer be with us, but her legacy lives on at the official Vampira website Vampira's Attic. She will be missed.
Read More