Richard Matheson Sells Rights To "I Am Legend 2"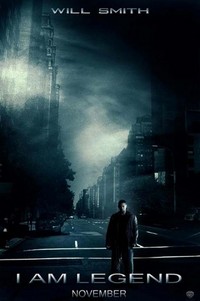 My editor here at AMC and I have an agreement: my foul-mouthed slagging of the recent Warner Bros. production of I Am Legend for its lack of faithfulness to the source novel written by Richard Matheson must stop until I've actually seen the film.
He's got a point, and I am nothing if not a faithful employee. Therefore, I present the following news without long, ponderous eye-rolls, without enraged trembling, without the apoplectic purpling of my face, without screams of rage, without wanting to beat a Warner Brothers producer into a puddle of quivering goo.
Here's the news: Richard Matheson has sold the sequel rights to I Am Legend to Warner Brothers, who was clearly impressed with the film's staggering box office numbers. That means a sequel is imminent and they plan to start filming as soon as possible.
I'm very zen about it. In fact, I write all of this from the lotus position, hovering a foot above my office chair under the counter-gravitational thrust of my own calm objectivity. How nice it is that one of my favorite authors get a nice, free paycheck after a lifetime of career-defining work. How wonderful it is that the thousands of people who actually liked I Am Legend can go to see an I Am Legend 2. And how interesting it is that repressed critical indignation can actually make a 28-year-old sci-fi nerd experience his first quadruple heart attack.
Author Sells 'I Am Legend' Sequel Rights to WB [Cinematical]
Read More