Retro-futuristic "WALL-E" Postcards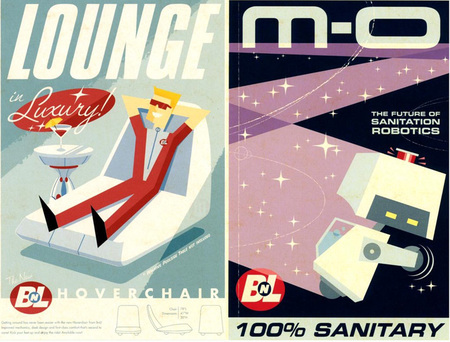 Pixar's upcoming WALL-E—which appears to be about a garbage-crushing robot with large, soulful eyes, looking for love and meaning in a world of dilapidated, rusting metal—has been looking promisingly retro-futuristic, but the new promotional postcards done by comic book artist Eric Tan leave little doubt that this is going to be a hell of a ride for the "where's my jetpack?" set.
This is the future I want to live in: filled with tiny sqworking robots, luxury starliners that resemble mid-twenties cruiseships, sunbathing on Venus and sleek leisure suits that adhere to the body through vacuum pressure. The Tan postcards evoke all of that. Nice work, Pixar.
Pixar's WALL-E Promo Postcards [Kung Fu Rodeo] (via io9)
Read More