Red Dawn: Teens Save the Free World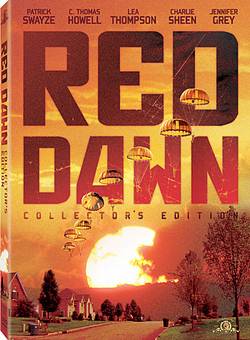 Red Dawn, a movie set amid Cold War paranoia circa 1984, tells the story of a Soviet invasion of the United States and the small band of teenagers who, against all odds and rationality, manage to wage a successful guerilla attack against the occupation of their small Colorado town. Like Logan's Run and Road House , this is a movie best enjoyed if not taken seriously–at all.
Insurgency is a loaded term these days, but if you're looking for any kind of parallel between this movie and the war in Iraq you will be looking for a long time. This is pure American pride on display, with a healthy dose of David and Goliath. It is based in a fantasy land where regular old American kids can defeat a platoon of trained, professional soldiers. Which doesn't mean it's not fun to watch; in fact, it's a blast. Just as long as you embrace the numerous outlandish extremes (at one point, a man in a prisoner camp grabs hold of a chain-link fence and screams, with unintentional hilarity, "Avenge me! Aveeenge meee!") and you'll come away satisfied. And likely, you'll hate the Russians, too.
Red Dawn plays on AMC this morning of Thursday, January 31 at 9:30 a.m. | 8:30C. Click here for the full schedule.
Read More