Reconsidering Sarah Connor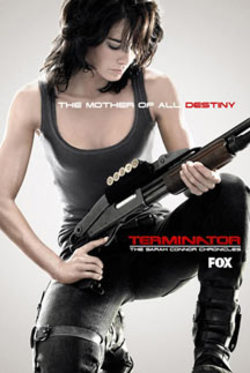 After watching the first episode of Terminator: The Sarah Connor Chronicles, I wanted to give up on the series. But following all those fireworks and special effects (and not much else), the second episode caught me off guard. It's good. Really good. Yes, it began in an over-the-top fashion with a shiny Terminator head flying at you, but then a provocative tale of tension and drama took hold.
The potential savior of humanity, young John (Thomas Dekker) is a winning combination of teen angst and rebellion. Protective Terminator Cameron (a lovely Summer Glau) has a sage-like wisdom counterbalanced by a Spock-like case of Asperger's syndrome when danger lurks. In the title role, the waif-like English actress Lena Headey comes across as two-dimensional for the most part then shows some crafty depth when dealing with bad guy Enrique and his even badder nephew Carlos. The upshot? SciFi pulp enriched by characterization. Last night was a smooth follow-up to a rocky start.
Read More