Real Life Tough Guy Breaks Down Bronson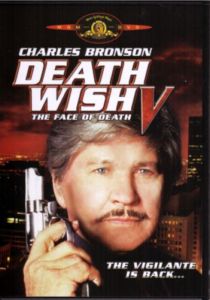 Gary Norris is a 24-year-old rancher living in Southern Ireland who happens to be a huge Charles Bronson fan. "A large picture of Charles Bronson was over a fireplace in our home from a time before I was born. So he's always been part of our house." To make it a part of yours, he's even created the website www.charlesbronson.info devoted to the latter stages of Bronson's career. Since AMC wraps up its week-long showing of the Death Wish film series tonight, Gary agreed to take a break from his work on the stud farm and talk about the action star's lasting appeal.
Not many films inspire 4 sequels spanning 20 years. Why did people keep coming back for more Death Wish?
The people came back because he got the job done.
Why did Bronson keep coming back?
Tough men don't retire.
Did you see Death Wish V: The Face of Death?
Yes I did, I think its a great film because Bronson proves that age is no barrier when it comes to protecting your family. He takes out the mobsters by using Spy Tactics and shows that the vigilante is keeping up to date with new methods as the years go by.
What is your favorite moment?
Paul Kersey is sitting on a bed holding a doll belonging to Chelsea who has been Kidnapped, then out of nowhere crooked cop Hector Vasquez is behind Kersey with a gun and says " I didn't think it would be so easy." Kersey turns Sharply with a gun concealed by the doll and says, "Either did I." Bang.

Have you made any connections with other fans through the website.
I have made many connections through the website over the years. I get tremendous inquiries from fans looking for Bronson movies which I try my best to help them locate… I often get emails from people who worked with Bronson in his Movies, they are always very interesting and are brilliant assistance in finding out information about Bronson movies and there locations.
Why do you think Bronson found so much success later in his career?
Bronson had great success throughout his career, mainly in Europe but it was Death Wish in 1974 that gave him the recognition he deserved. The whole world could relate to this storyline of injustice. The movie fulfilled many peoples thoughts and wishes. Bronson became the public's hero.
Charles Bronson passed away in 2003 at the age of 81. Pay your respects tonight, Friday, January 18 with Death Wish 5 at 8 p.m. | 7C.
Read More