Pimped Out Cars for Sci-Fi Motorists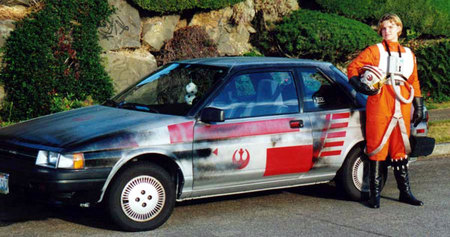 For the futurist motorist, the failure of science to perfect the flying car really limits our carpooling abilities. Oh, sure, there's K.I.T.T, from Knight Rider and the DeLorean from Back to the Future. But the vehicle of choice is the spaceship, and there's just no mistaking our emerald Prius for a Star Destroyer or the U.S.S. Enterprise.
But that's no reason to give up. Take a cue from the die-hard mechanics on display in io9's gallery of pimped-out sci-fi cars. That tireless Chevy Impala rusting and rotting on cinder blocks on your lawn? A coat of red paint can give it the look of a Rogue Squadron X-Wing. Bolt a few nacelles to the back of your Corvette and you can zoom to work as a Battlestar Galactica viper jockey. The possibilities for the mechanically inclined and socially clueless are limitless.
Pimped Out Cars [io9]
Read More