Own Doctor Who's Soul-Holding Fob Watch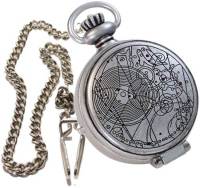 One of the best stories of the relaunched Doctor Who is the two-parter ("Human Nature" and "The Family of Blood") adapted from the mid-90s novel. Devoid of Russel T. Davies's obsession with lowbrow melodrama, "Human Nature" was a touchlng look at the sacrifices in love and friendship which the last of the Time Lords has made in order to be a hero.
But for the fashion conscious, all of this sentimental plotting took back seat to the Doctor's fantastic Edwardian fob watch. That timepiece essentially held the Doctor's memories and personality captive, allowing him to pretend to be an average school teacher in order to escape the aliens who were hunting him.
But even if it didn't have that claim to sci-fi geekiness, the watch
would be extraordinary, with an etched back that looks like a da Vinci
sketch of the fabric of time and space.
I've long since wanted a recreation of Doctor Who's fob, and
now it looks like I'll get my wish answered thanks to this official replica. It
does tell time, but it also seems to bleep, bloop, and flash lights. (So much for quiet mystery.) Still, a
must-have accessory for the fashionologically savvy or the would-be
amnesiac Time Lord.
Who Has the Time? [Forbidden Planet]
Read More