Orson Scott Card Okays Ender's (Video) Game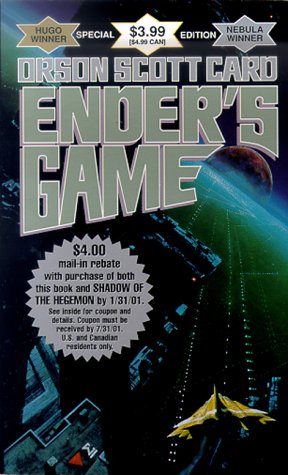 Short of an MMOG version of Snow Crash's Metaverse, perhaps nothing makes more sense than a video game adaptation of Orson Scott Card's Ender's Game. It's the story of a 10-year-old boy who's called on to save mankind from an inexorable alien threat; it centers around military training games and concludes in a seemingly hopeless "virtual" attack on the alien homeworld.
Orson Scott Card has always been reluctant to grant the video game developers the rights to his award winning novel…until now. Ender's Game will be a co-production between Card and the relatively unknown Chair Entertainment, for whom Card once adapted their Empire IP into novel form.
Card seems suitably excited:
From the moment I started working with Donald Mustard and his team at Chair, I knew that these were the guys I wanted to do the first Ender's Game video game. It's not enough to slap the Ender's Game name on just any game–it has to be exciting, memorable, and endlessly replayable. Chair shares my understanding of this and I am looking forward to working with them to ensure the game is as authentically Enderish as possible.
The game will be developed for downloadable platforms like Microsoft's XBox Live and Sony's PSN service. If Chair can pull off a game that manages to be 1/10th as exciting as some of Ender's Game's literary Battle Room matches, I'm as pumped for the project as Orson Scott Card is.
Ender's Game "Battle Room" game series announced by Chair Entertainment [PSP Updates]
Read More