Online Tonight: The "Terminator" Series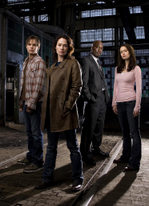 It's judgement day for the new Terminator TV show. Starting tonight at 9 p.m. EST, Warner Brothers is debuting the pilot of The Sarah Connor Chronicles on Yahoo! TV. The hour-long sci-fi drama will be streaming for a 24-hour period, with no commercial breaks. It also includes an introduction by Lena Headley who plays TV.s Sarah Connor.
FOX will begin airing the series with a two-night premiere on Sunday, January 13 and Monday, January 14. The network is banking on Terminator to be their hit for 2008, as it's the only scripted series scheduled for an extended run.
Go to tv.yahoo.com to here to see the show tonight.
Read More