No Goodbyes for Y: The Last Man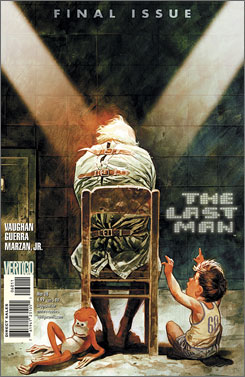 Today the final issue of Brian K. Vaughan's seminal comic book series about the last man on earth after a global man-copalypse ends, as issue number 60 hits stands. But chin up, faithful fans, for you have not heard the last of Yorick Brown and his faithful sidekick Ampersand. USA Today ran an interview with director DJ Caruso, who is developing a screen adaptation of the best-selling sci-fi series with Disturbia scribe Carl Ellsworth.
The director said that the world of Y was so large, complex, and rich that the film–which once was set to tell the story of the whole series and will supposedly star Shia LaBoeuf as the titular character–will now only cover the first 14 issues, leaving the door open for a Y trilogy.
Hallelujah! Having read an earlier draft of the screenplay, which attempted to cover the whole series, I can safely say this is the right decision. The script felt rushed, the story cheapened. Now they have a chance to really delve into the complexities of Vaughan's universe.
As far as the casting of Shia, to quote Boondock Saints, "I'm strangely comfortable with it." It feels like he's the right age and judging by his past characters, has the right characteristics. Yorick has to be the anti-hero, his status as the Last Man on Earth has to be ironic–he's your typical geek, somewhat lacking in testosterone and not quite ready for the burden thrust upon him. Plus, there be more than a few scenes where Shia will have to pass for a woman, and I mean no offense when I say I think he'll be able to pull it off.
Y is by far my favorite series of late, so you can be sure I'll be coming back here to let you know what I thought of the final issue. But I really want to hear what you think of it, and also what you think about the possibility of a Y trilogy. How about Shia LaBoeuf–do you think he will make for a good Yorick?
You can also go to the Talk forum to discuss your thoughts on all the latest comic book adaptations.
Read More