Jessica Alba Can Gain Insights for "The Eye"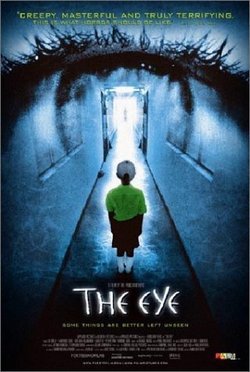 In her upcoming film The Eye, Jessica Alba plays a woman whose eye transplant triggers scary visions. But acting is more than just showing up on the set—any actor worth her salt does a lot of research to get into character. Preparing for such a challenging role couldn't have been easy on Jessica; here are the movies she should have watched to inform her performance. Grade yourself, Jessica, and be sure to send us your score!
1. The Eyes of Laura Mars : This 1978 thriller stars Faye Dunaway as a fashion photographer who discovers she can "see" through the eyes of the serial killer who is stalking her friends. Taking acting notes from Dunaway could hardly hurt Alba's performance, and the '70s retro fashion might set her up with a new look for the premiere.
2. Blink : Madeline Stowe plays a blind woman whose new corneal implants cause "retroactive hallucinations" that cause her to identify a murderer—making her the next target. Alba should be able to relate to Stowe a lot: Alba's parents are Mexican and French/Danish; Stowe's are British and Costa Rican. Sounds like similar Euro-Latin insights could abound.
3. Idle Hands : Jessica was actually in
this one, so there's a greater chance that she actually saw it. Let's hope she paid close attention to fellow actor Devon Sawa,
who stars as a boy whose hand becomes possessed with a murderous life
of its own.
4. Body Parts : If you made it all the way through this one,
Jessica, then you're a dedicated artist indeed! This obscure
low-budget grotesque starred Planet Terror 's Jeff Fahey as a
man who receives an arm transplant from an executed murderer, and goes
on a hunt to see who wound up with all the other spare parts. If
anyone can find inspiration in that, it's our gal!
5. Gin Gwai: I know it's asking a lot, but I hope Jessica
did indeed watch the Chinese film that hers is a remake of. Perhaps
she preferred to start fresh, without the pressure of living up to what
most people consider a real knockout ghost story. But hopefully she
got around to it, and hopefully it scared her pants off.
I anxiously await her response. In the meantime, when The Eye comes out on Friday, February 1, it'll be clear to everyone whether she really did her homework.
Read More