Jennifer Garner Wants to Be a Klingon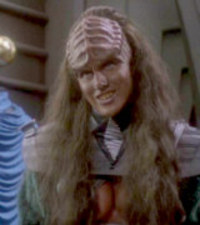 No one's gotten more out of an association with J.J. Abrams than Jennifer Garner. Long before Abrams turned his attention to science fiction with Lost, Cloverfield and Star Trek XI, Abrams helped catapult Garner to stardom thanks to shows like Felicity and Alias.
Unfortunately, as Abrams turns his creative energies to his more geeky inclinations, he seems to have left Garner far behind. But Garner has recently been doing the interview circuit, not so subtly hinting that she'd love a cameo in Trek XI.
"I just want to be a Klingon in the movie," Garner pleaded to MTV's Movies Blog, insisting that she'd even take a cameo. "I just want to walk through as a Klingon."
I'm all for it: She's definitely got the forehead for such a role.
Jennifer Garner Hopes to Boldly Go to J.J. Abrams' Star Trek [MTV Movies Blog]
Read More