Is This the Cloverfield Monster?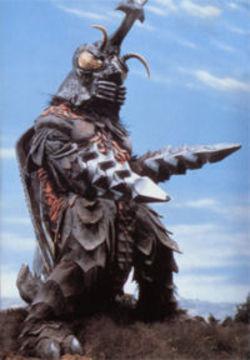 With only one week to go before it hits theaters, Cloverfield has the internet abuzz with speculation about the giant monster's look. Several websites have have been passing around designs of various creatures claiming to be the real deal, almost all of which have been shot down by inside sources. If you feel you must see them, here's one from Movieweb and another from Gone Elsewhere. Keep in mind, both have already been debunked.
The one thing we know for certain about this monster is that you do actually see it; Matt Reeves, Cloverfield's director, tells Variety's Anne Thompson that it's not only seen several times (starting around the 25 minute mark) but "by the end you have intimate contact." As for this rush to spoil the monster's look (which the filmmakers are obviously keeping under wraps until after the release), can't you wait one simple week people? Did you open your Christmas presents on December 18th? No, you did not, so just wait until next Friday and let yourself be surprised. Besides, it's going to look better on the big screen than on your computer monitor.
As to the monster above left, it's not the Coverfield beast, it's Megalon, of Godzilla vs. fame—one of my personal favorites.
Read More