Is Paris Hilton A Monster?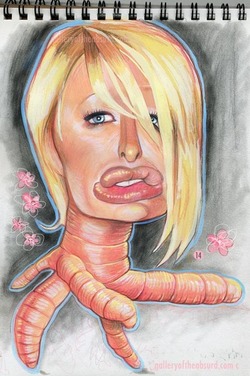 If you've ever stopped by the Galley of the Absurd blog, you've seen how performers perceived as difficult are portrayed in caricature as monsters. Artist 14 does all of the satirical graphics and she says her mission is to "to capture a peculiar segment of modern pop-culture mythology as
it unfolds before our eyes." Well, Paris Hilton, who stars in the upcoming Repo! The Genetic Opera, is going to be quite peeved when she sees 14's disfiguring interpretation of the actress's search for fuller lips. You can detect the slightest bit of David Cronenberg inspiration here, or maybe a tiny bit of Ken Russell circa Lair of the White Worm, don't you think?
Read More