Is Movie Talent Powering a New Golden Age of Television?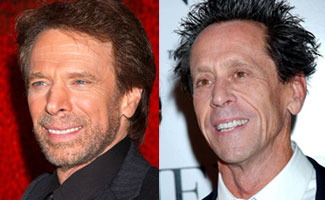 With HD becoming ubiquitous, television is luring viewers from the theater. But TV's siren song is now being heard by major film producers and stars too. "Just about everybody in the feature business is turning to television as an escape, career-wise." Shootout co-host Peter Bart says on this week's show.
Hollywood's most important producers like Brian Grazer and Jerry Bruckheimer, hot young upstarts like J.J. Abrams, and major stars like Holly Hunter (Saving Grace) and Kyra Sedgewick (The Closer) have descended from big screen to small. (Once upon a time, says Bart, TV and film people remained steadfastly in their own worlds.)
Co-host and movie-producer Peter Guber explains their motivation. "What is it? Power, control, money, enterprise value? In television, the producer-writer is the king. In the movie business–the business we grew up in–we were lucky to have tickets to the premiere, and talked to the director only on his terms."
Perhaps another motivation, says Guber, is the speed difference between TV and film. "Television is so much faster. You have the idea for a theatrical
feature and three years later it comes out and the world has changed…TV is very quick."
"You also have the opportunity for the writer to develop a voice in a cable or a television show over a period of time. Really get around the character," he says.
At the same time, the new shows "almost look like movies," says Guber, citing AMC's own Mad Men as an example of something that "looks like a movie, is photographed like a movie and has the tonality of a movie."
What's not to like?
Guber is concerned as a film-maker that audiences will be "weened to this type of fare and the (theatrical) speciality fare will have trouble competing."
Breaking Bad
Bart and Guber asked Guest Brian Lowry, who is Variety's chief TV critic, to comment on the
phenomenon, particularly as it applies to AMC's second new cinematic series Breaking Bad.
"The
great thing about cable right now is they can get by with niche shows–shows that hit with a relatively narrow, but loyal audience," says Lowry. "It was the same way with Mad Men which I thought was the show of the year."
He adds, "If you look at the totality of what's being done for television right now, which is really in a golden age for dramatic series, and the totality of film, I think there are pound-for-pound more good, recommendable television series out there than there are films."
"The discriminating audience is getting its itch scratched on television–They're watching The Wire and…Mad Men and…Saving Grace…"
One of the keys, says Lowry, is that the audience watches these shows in the same way they watch a lot of movies now–on a large, high-definition screen at home."
Bart agrees, "That's what's changing the rules… You wonder how movies can sustain themselves…
[And] it means you are going to see more…big pictures that can't be replicated even on a 60-inch screen."
(Photo: Bruckheimer and Grazer. Courtesy: Everett Collection)
Read More