If Ratner Directs Wolf Man, Harry Knowles will be P.O.'d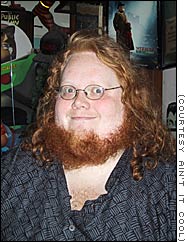 Ain't It Cool's Harry Knowles went on a rant yesterday when he heard from from "an incredibly reliable source" that Universal is in serious discussions with Brett Ratner to take over the directing chores for The Wolf Man.
Rails Knowles, "Brett Ratner makes watchable films. Movies that go through your system as if consumed off a soapy plate. They're empty — hollow works. He's a terrible ACTOR's director. His basement is a disco, and the Wolfman has no disco in his soul. This is a PERIOD film — to make a convincing period film you need a director for an eye for details… Someone that knows this world and period. X3 was a financial success — but that was based on an incredibly successful franchise by Singer. Ratner killed it. Made the WORST FILM OF THE SERIES — and Fox sold it brilliantly. Dare to make the great film. STOP. Find a different director… please."
One can almost envision the steamy anger emanating from Knowles. Could the reliable source be Del Toro himself, who's known to be good friends with Harry? Do you agree with Harry?
Read More