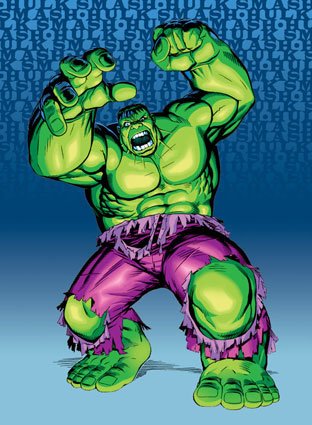 Last night's presentation of Hulk Night was a Smash! thanks to everyone who came out to the show. For those of you who missed it, here are some of the Hulk Haikus (a.k.a. Hulkus) featured in the program.
Hulk think haiku stink.
Hulk can't make syllables fit.
Hulk smash! Hulk smash! Hulk
* * *
Betty, your presence
makes the beating of Hulk's heart
destroy small cities.
* * *
On tonight's program
Banner turns into the Hulk.
Guest star: Kim Catrall.
* * *
Hulkbusters, can't you
see that you are just busting
yourselves out of job?
* * *
Dr. Bruce Banner
Gamma rays transformed you; changed
Your name to David.
* * *
Don't Make Me Ang Lee
You Wouldn't Like Me When I'm
Ang Lee; 2 Thumbs Down.
* * *
New stranger in town
got a job sweeping up, name's
David…Bannister
* * *
Sad closing theme song,
sometimes made me cry at night.
Dad said I'm a fag.
* * *
Gamma rays transform
Why does the crotch never rip?
They're pregnancy pants
* * *
All kidding aside:
Why isn't Stan Lee dead yet?
His work here is done.
* * *
Stan Lee Rebuttal Haiku
Kids just love the Hulk,
He's big, he's green, he's angry…
I refuse to die.
Read More