Horror Surfer: Emily Blunt, Ghost Roommates, and a Fangoria Contest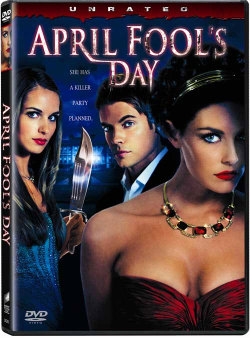 Is it possible the Butcher brothers or Sony read the recent AMC blog post Ho-Hum: DVD Cover of April Fool's Day? Bloody Disgusting says a new cover is on the way.
Great news from icWales.co.uk for Monsterfest fans. Horror experts from around the world are being interviewed for a Sweeney Todd DVD extra. The news website has more about the horror documentary and two Welsh experts "starring" in it.
Actress Emily Blunt might not like watching scary movies but she doesn't mind starring in them. At Empire, she discussed her upcoming role in Mark Romanek's The Wolf Man.
Fangoria is celebrating the Doomsday release with a contest. Want to win a meet-and-greet with the film's director, Neil Marshall? A scary good weekend of horror could be yours.
Who do you turn to for advice when one of your roommates is a ghost? Apartment life columnist Sara Gebhard of The Washington Post, of course.
Read More