Horror Surfer: Cat People, Teeth, and High Midnight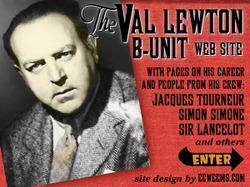 Thanks to a new documentary, Val Lewton, the Man in the Shadows, the famed producer is now in the spotlight. As head of horror at RKO studios he made Cat People. Find out more at The Val Lewton B-Unit Web Site.
Teeth opens this Friday, January 18. Unlike Cloverfield, it's no secret who the monster is or where it resides. Ouch. Cross your legs and read the review at Shock Till You Drop.
If the standard cowboy western leaves you thirsting for more, read Fangoria's interview with filmmaker Mary Lambert about her latest project, High Midnight.
This one is for all you gamers: Worthplaying.com has put together a nice list of Under the Radar Horror Games.
Texas Frightmare Weekend is right around the dark and desolate corner. Get tickets now to the Southwest's premiere horror convention in Dallas February 21 to 24. They'll be having a 40th Anniversary salute to Night of the Living Dead .
Read More