Horror Surfer: Bigfoot, Big Money, and an American Werewolf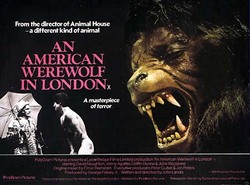 The best place to find the Top Ten Bigfoot Stories of 2007 is, of course, Cryptomundo. It's a great site for info about the Loch Ness Monster, too.
The Academy of Motion Picture Arts and Sciences overlooks Spider-Man and Harry Potter sequels for its visual F/X Oscar nominations. Among the seven nominees, however, are I Am Legend and The Golden Compass.
Horror Hound announces a Pittsburgh convention in mid-June and promises appearances from Griffin Dunne and David Naughton from An American Werewolf in London. Do they still have their own teeth at this point?
Wicked, Broadway's musical about the witches of Oz, was the most requested event in 2007 for Ticketmaster. Not impressed? Well, it beat out Hannah Montana and The Police.
Finally, a release date is set for Doomsday, the latest horror film from writer-director Neill Marshall ( The Descent ). Get in line Friday, March 14.
Read More