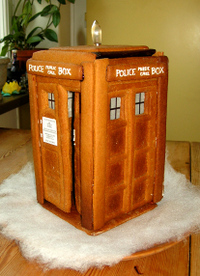 In a flurry of eggnog-fueled fist fights, Christmas has hurtled past us, but the remains of the holiday linger on: rotting trees shedding pine needles; bottles of half-drunk gluhwein; plates of stale ginger snaps; and elaborate gingerbread houses currently subletted by roaches.
But somewhere in America, there exists one particular cockroach who burrowed into a very particular gingerbread house. Quivering his filth-encrusted carapace, he wormed his way inside, and was confronted with a curious site: a steampunk console and an interior far bigger than the outside. This cockroach is now a time-lord, rocketing through the universe in its own ginger bread TARDIS, only pausing occasionally to seduce horse-toothed female cockroaches by the name of Rose.
Ah, yes, the Gingerbread TARDIS. A remarkable creation. I only wonder if the sign on the door is edible.
TARDIS Gingerbread House [500 Year Diary]
Read More