Free Preview of "Jumper: Jumpscars"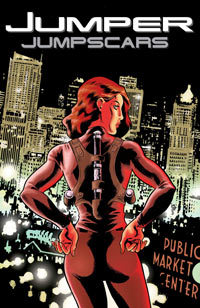 I suspect that the upcoming teleportation movie Jumper is going to be a surprise hit. It's got a lot going for it: It's based on the classic sci-fi novel of the same name by Steven Gould (who actually vouches for the film), it's directed by Doug Liman (who did the incredible Bourne Identity ), and it stars Samuel L. Jackson and Hayden Christiansen (who looks like he might actually turn in a decent performance).
One criticism being leveled at the film, though, is it eschews a lot of the original story. People do expect movies based on novels to deviate somewhat from the source, but this literary work has a lot of loud, dedicated fans who blog. While these guys tend to be cautiously optimistic, it's also clear that this is a whole new universe.
To help people understand the new Jumper realm, Oni Press is releasing a 100+ page graphic novel called Jumper: Jumpscars which details more of the conflict between teleporters and the Paladins that hunt them. A free 21-page preview of the graphic novel is now up, and not only is it none-too-shabby, but it's a generous free slab of a commercial work being used as promotion. That's something a lot more companies should be doing.
Preview: "Jumper: Jumpscars" [CBR]
Read More