First Look at Trek XI's Interior Design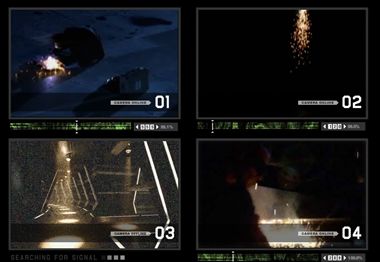 Strapped to a chair with his shoes off and toes vulnerable, there's many questions many of us would like to put to the secretive J.J. Abrams about Star Trek XI with the business end of a ball peen hammer.
The question I'd want answered, starting with a smashed little toe? What does the interior of the new Enterprise look like? We've all had a glimpse of the outer shell thanks to the most recent trailer, and I'm sure we're all thankful, but the interior remains a mystery. My follow-up question, on the big toe? What will the uniforms look like?
Well, at least it looks like Paramount is willing to save Abrams' pinky toe from a mangling. They have recently launched an official NCC-1701 website. Right now, there's nothing except some staticky, fitzed out security cameras. But the genius part is that you can actually tune the frequencies of the channels to get clear pictures. But one of those cameras, properly tuned, offers a periodic and random glimpse of the interior of the new Enterprise.
It's just a bunch of tunnels, having more of a Battlestar Galactica look to them than a TOS one, but that's informative enough: it doesn't look like we'll be getting a 60's vibe in the interior decor, which in and of itself makes me want to start on J.J. Abrams' roast beef as a point of order.
NCC-1701.com [Official Site] (via Show Me SciFi)
Read More