Fear(s) of the Dark: Effective Viral Marketing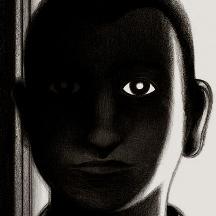 Nowadays, we often get to take a good long look at a film before it's even clear whether it will ever see even a limited release. Fear(s) of the Dark is a great example of artists working on the run, leaving a breadcrumb-trail of clips and images from their MySpace page all the way to Sundance, in the hope that someone is paying attention. Well, they've got my attention. Their teaser trailer is scary as hell and as imaginative as it gets.
A collaboration among numerous cartoonists and graphic artists, Fear(s) is a collection of stories that overlap within a nightmarish world where ravenous dogs, haunted children, and strange creatures wander through a charcoal-smudged fog. While the inky darkness leaves much to the imagination, stark shots of specimens in jars and swinging limbs announce loud and clear that Fear(s) won't be content to scare us with atmosphere. There are monsters here in the dark, and they bite.
Read More