Everyone Wants The Rocketeer 2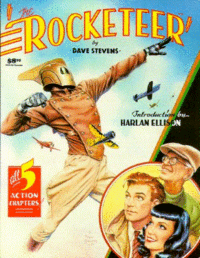 Although disappointing compared to its source comic, I always wished more had come out of Disney's Rocketeer movie in 1991. It had everything: a pre-stardom Jennifer Connelly doing her best G-Rated Betty Page impression, Timothy Dalton as a sneering Erroll Flynn villain, a Nazi zeppelin exploding over Hollywood, and, most importantly, a jet pack. I always wanted a sequel.
Looks like I'm not the only one. Billy Campbell, the titular Rocketeer himself, has somehow tumbled out of obscurity to start giving nostalgic interviews about how much he dug being a retrofuturistic Nazi fighter and how much he wants a sequel.
"I was talking to [writer] Dave Stevens just the night before last. We always talked about having a sequel," Campbell said. "The movie didn't make as much money as Disney had hoped and that coupled with the acrimonious relationship that the director and the studio had contributed to them not even considering it."
That's a shame, but it'd be better to reboot The Rocketeer anyway. The Disney version was excellent, but they need to stay truer to the racier source material. The Rocketeer's all about retrofuturism, T&A and diabolical Nazis: Disney left one of those elements clean out of the equation.
High-Flying Hero Billy Campbell Wants Return Of Rocketeer [MTV Movies Blog]
Read More