eBay: The Hollywood Agent for Horror?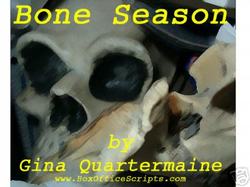 Usually, I check eBay to see what kind of horror ephemera has become available. Who knows? Maybe someone has finally made a Julianne Nicholson doll from the underrated TV series The Others. But today, a woman wants over a half million dollars—that's the starting bid—for her horror movie script. Here's Gina Quartermaine's pitch for Bone Season:
"Logline: Chaos explodes as two teenage sisters venture
into dark supernatural realms. Synopsis: Abbie and Jenny can't escape an old family secret. They never realize
they are the direct descendants of a man guilty of despicable crimes,
sentencing people to death: a witch hunter. He was also a man cursed by a
powerful warlock. With his dying breath the warlock cursed all Pyncheon
descendants. Without this knowledge the fearless girls summon the
monstrous powers feared by men."
What do you think? How much would you bid?
Read More