Drink What Vampires Drink?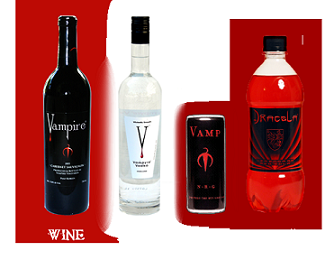 In the constant search to find monstrous things outside of the usual fare, here's a look at Vampire Vineyards. At the site, you can get Vampire wine, nine kinds, including the blood-like Merlot. Is the vintner a vampire himself? Says the site, "Rumor has it that…the company's founder, an entertainment attorney from New York, is actually just a front."
Beyond wine, there's also Vampyre Vodka, Vamp N.R.G. energy drink and Dracola. You just can't make these things up. There's even a blog which hasn't been updated since May. Maybe the resident evil was tending to his vines when the sun came up to zap him. Ashes to ashes as they say.
Read More