Diary of the Dead Reveals New Poster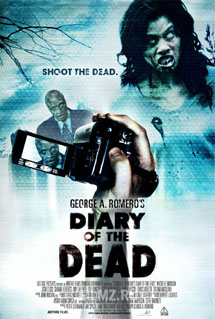 What's more disturbing than Saw death traps and Hostel clients? The agonizing wait for horror films still awaiting a nationwide release yet. Luckily, Teeth , which dates all the way back to 2007's Sundance Film Festival, finally opened across the country last weekend. The latest poster for George A. Romero's Diary of the Dead –set for a limited February 15 release–provides even more hope for weary horror eyes.
Although poorly-photoshopped, the poster that popped up on Filmz.ru still feeds the excitement for a film currently deemed the second most anticipated film of Monsterfest readers. Romero's latest zombie flick that follows a group of college filmmakers whose production is interrupted by the brain-hungry dead, made its festival debut in Toronto last September. Now it's Sundance. Tomorrow, Podunk?
Read More